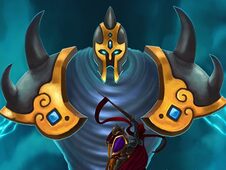 Royal Heroes is a free-to-play fantasy strategy game developed and published by Badim. It was released on August 4, 2016, for PC and Android. In Royal Heroes, players take on the role of a lord who must build and defend their kingdom, recruit and train heroes, and battle against other players and monsters.
Description
Welcome, my Lord, to the cursed kingdom. A land plagued by black magic and creatures that crawl out of the darkness. Once, this was a great kingdom. It could be great again. That's all up to you. Enter the world of Royal Heroes – a strategy game set in fantasy and adventure. Hire an army of legendary heroes and battle vast waves of monsters. Destroy your enemies on the battlefield. Purge all evil from your land. Construct your castle. Craft weapons. Spend your loot wisely. Rule your kingdom. This is Royal Heroes. Welcome to your kingdom, and good luck. You'll need it.
The game features a variety of different gameplay elements, including:
Resource management: Players must gather resources, such as wood, stone, and gold, to build and upgrade their structures.
Hero recruitment and training: Players can recruit and train various heroes, each with their unique abilities.
Kingdom building: Players can build various structures in their kingdom, such as barracks, towers, and mines.
Battles: Players can battle against other players and monsters in various modes, including PvP, PvE, and Guild Wars.
Royal Heroes is a challenging and rewarding game that requires players to use various strategies to succeed. The game is also very replayable, as various ways to build and develop your kingdom exist.
Here are some tips for playing Royal Heroes
Focus on resource management: Resources are essential for building and upgrading your structures and recruiting and training heroes. Make sure to gather resources regularly and use them wisely.
Build a balanced army: Your army should consist of various heroes with different abilities. This will help you to be effective against a variety of different opponents.
Upgrade your structures: Upgrading them will make them stronger and more efficient. Make sure to upgrade your structures regularly, especially your barracks and towers.
Join a guild: Joining a guild will give you access to a variety of benefits, such as guild wars and guild rewards.
Royal Heroes is a great option if you are looking for a fun and challenging strategy game. The game is free to play and available on PC and Android.
More Games