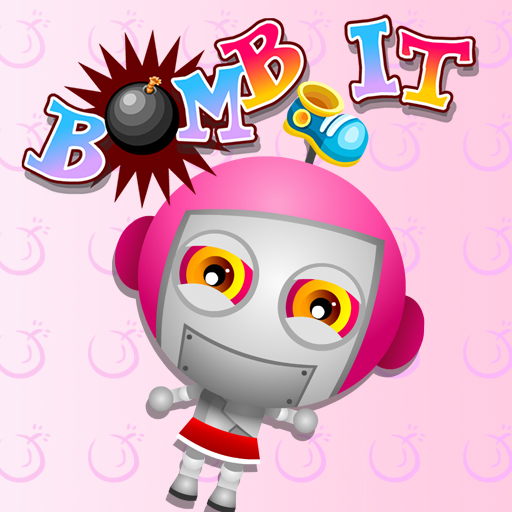 Nothing can't be cleared by a properly placed bomb it online game! Come to the explosive obstacles and other players in Bomb it 1 game, the first game in this popular game series! When it comes to explosives, the competition will be more intense, but they are an indispensable tool in this game.
Bomb It 1 Game Option
Try to blow up the maze wall made of soda cans, biscuits and popcorn bags, hit the enemies and destroy them with a big explosion! Bomb It 1 has a colorful and candy-filled world, providing hours of fun as its addictive gameplay continues. You fascinate yourself in front of the computer screen while repeating yourself: "One more level!" Biscuit sandwiches, muffins, and many other delicacies form the walls of each level.
As a player, your goal is to drop bombs in strategic locations to demolish these sugary walls and clear the way for your main goal, other characters. In Bomb It 1, you try to blow up all other characters in the level and become the last person to stand. Some cupcakes will be destroyed, but this is the price of being the only survivor.
To start the game, choose one of 4 characters. After choosing a good character, you can enter the world of food, even the sweet tooth can be satisfied. Try not to be distracted by these delicious desserts, because once you reach the level, other characters will start to place bombs and clear their paths. Use the arrows to move and press the space bar to place bombs. Also can playable with full screen option.
The range of the bomb is a certain number of squares, so once you put it down, just run. Being involved in the explosion will hurt him, and he will eventually die. Cookies look tempting before they die, but you are here to win! Place bombs carefully and eliminate all other bombs to win the level!
Bomb It 1 Unblocked
Bomb It 1 Unblocked is an explosive online arcade game where you strategically plant bombs to defeat opponents. Step into a maze-like arena, navigate through obstacles and blast your way to victory. Play now and experience the unblocked version of BOMB IT 1, where you can unleash chaos without any restrictions. Engage in thrilling multiplayer battles, customize your character, and strategically place bombs to outsmart your opponents. With its fast-paced gameplay and addictive action, BOMB IT 1 Unblocked will keep you entertained for hours.
Instruction
Bomb it 1 is a unblocked game and can be played without flash.
Play with your keyboard on desktop or touch on mobile devices.
How To Play Bomb It 1
Bomb It can be played by a single player or multiplayer.
player 1 uses WASD to move and space bar to drop bombs
Player 2 uses arrow keys to move and enter to drop bombs
More Games
Bad ice cream, Bad ice cream 2, Bad ice cream 3, Bad ice cream 6