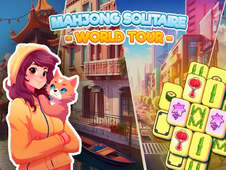 Mahjong Solitaire World Tour is a unique and innovative game that takes players on a global journey. Players can explore iconic cities like Paris, London, and New York while solving challenging mahjong puzzles. The game features stunning graphics, soothing gameplay, and levels designed to challenge and thrill.
One of the things that sets Mahjong Solitaire Worldtour our apart from other mahjong games is its world tour theme. As players progress through the game, they will unlock new cities, each with its unique set of mahjong tiles and puzzles. The game also features a variety of individual tiles, such as flower tiles and season tiles, that adds an extra layer of challenge and excitement.
Instructions
Remove matching tiles by tapping them, but remember that only unblocked tiles can be picked. "Unblocked" tiles have an open edge and nothing on top of it.
Feature
Another unique feature of the Mahjong Solitaire WorldTour is its pet system. Players can rescue a pet monster at the beginning of the game and then evolve it as they progress. The pet monster provides players with helpful hints and power-ups, making solving the most challenging puzzles easier.
The Mahjong Solitaire WorldTour is perfect for players of all skill levels. The game features a variety of difficulty modes, from easy to expert, so there is something for everyone to enjoy. The game also includes helpful hints and tutorials so beginners can learn to play quickly and easily.
If you are looking for a fun and challenging mahjong game with a unique twist, then the Mahjong Solitaire WorldTour is perfect for you. With its stunning graphics, soothing gameplay, and world tour theme, Mahjong Solitaire WorldTour will provide hours of entertainment.
Tips for playing Mahjong Solitaire World Tour
Look for pairs of tiles that are free on all sides. These are the tiles that you can match and remove immediately.
Pay attention to the unique tiles. Flower and season tiles can be matched with any other tile, regardless of the suit or symbol.
Use your pet monster's power-ups wisely. Power-ups can help you to find matching tiles, shuffle the board, or undo a move.
Feel free to use hints. If you get stuck, you can use a suggestion to help you find a matching tile.
Take your time and enjoy the game. There is no time limit, so relax and have fun!
More Games